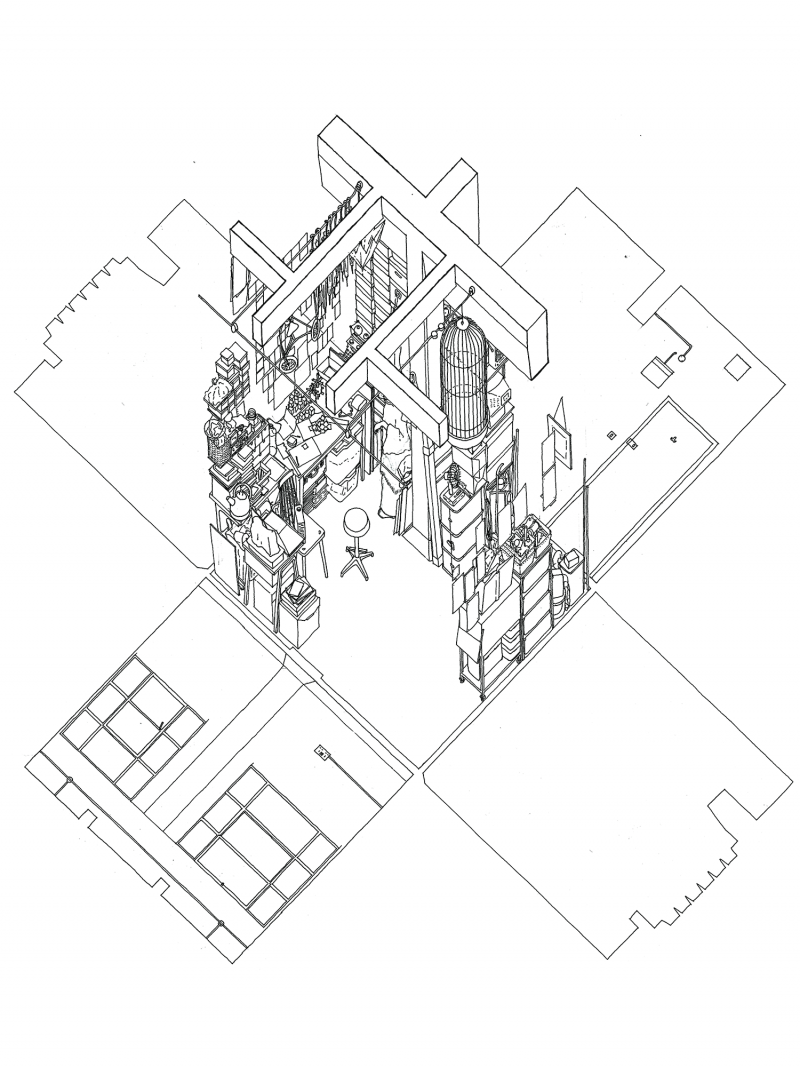 2010/11 Art/House/Power
Cass Diploma Unit researching future of energy production and arts provision in London and their possible cohabitation.
Unit 5 embarked on an ambitious research project this year that cut across several issues affecting the future of London and similar cities: How climate change might be affected by bringing energy production into the centre of cities; what might such facilities look like and what uses will they situate themselves amongst? How and where will artists and makers work if development forces them to the city margins; What possibilities might there be for bringing spaces of human creativity and energy production together out of mutual interest and benefit to the city; How can architecture allow creativity to be housed in comfort?
We chose an extraordinary site, Deptford Creek, a tributary of the River Thames just upstream from the more famous Greenwich, home to the Prime Meridian. It has a comfortably derelict appearance that attracts Chinese Mitten Crabs, aggregate barges, artists and Black Redstart. Recently however, the seemingly inexorable property boom meant that even the Creek became, albeit briefly, prime real estate. Next door to the Laban Centre (Herzog de Meuron, 2003) the catchily named Creekside Village is currently under construction and due for completion this year. Including 800 residential units and 220,000 square feet of commercial space the development represents a serious change to the density and fortunes of the area. Around a further fifty property freeholds surround the Creek. If it had not been for the credit crunch the fortunes of many of the local property owners might also have been seriously changed. But the market has stalled and the cranes stood still and everyone, from developers to local residents, has had a moment to reconsider the future.
Our research was wide-ranging: from discussions with Jane da Mosto of Venice in Peril about strategies to protect saltwater marshes and Rainer Zimmann of Arup on the latest trends in gasification and anaerobic digestion plants, to surveys of artists' colonies and visits to boat-builders in both London and Venice. Out of the research emerged a diverse range of proposals for the Creek that offer alternative visions of the future where new developments purify the water of their neighbours, waste recycling plants provide luxurious levels of comfort for local studio spaces and nature is palpable all around.
Students:
Mike Begent, Sally Brooks, Rhiannon Cowell, Doug Eckgord, Rory Gaylor, Emiko Hamada, Meriel Hunt, Amy Jones, Kenneth Luk, Laura McLean, Sharm Murgiah, Luke O'Bray, Thomas Randall-Page, Mayuko Shimamura, Anna Taylor, Gareth Thomas, Emma Weeks
Thanks to:
Liza Fior, Spazio Legno Venice, Jane de Mosto of Venice in Peril, Space Studios
Consultants:
Nick Bertrand of the Creekside Education Trust, Rainer Zimmann of Arup, Jeremy Climas of Max Fordham LLP, Michael Hales of Michael Hadi Associates
Critics:
Michael Pawlyn, Irénée Scalbert, Simone ten Hompel, Ro Spankie, Robert Mull, Peter Carl, Emily Greeves, James Gallie
Tutors:
David Kohn and Silvia Ullmayer
(Thumbnail image, project by Thomas Randall-Page)
Top