Hertfordshire House
Revitalisation of a Grade 2-listed country house and estate in the Chilterns Area of Outstanding Natural Beauty
Hertfordshire House is a Grade 2-listed country house that has been significantly refurbished and extended to form the centrepiece of a revitalised 500 acre estate in the Chilterns Area of Outstanding Natural Beauty.
Built in the 18th century as a farmer's house in a reduced classical style, the original square plan building has been altered and extended numerous times. Rather than a strategy of stripping back to its simpler form, the design approach was to celebrate this history of incremental change by refurbishing and further extending the historic alterations.
The interior design strategy was inspired by Elizabethan calendar houses that assemble architectural elements in quantities that reflect the numbers of days, weeks and months in a year. When deciding on the colour palette, an equation that divided the area of the interior by its construction date generated Pantone colour codes eg Drawing Room 121m2/ Built 1876 = 0.0644 Pantone 644. The seemingly wilful decoration scheme unexpectedly unites the disparate fragments of the house through their shared social history of middle-class aspiration.
New gardens by landscape architect Todd Longstaffe-Gowan create a series of outdoor rooms surrounding the house that include kitchen garden, hawthorn maze and an extensive haha. Livestock were reintroduced to nearby fields and trees planted to create new framed views of a revitalised farming landscape.
Project
Refurbishment of Grade 2 listed country house and estate
Location
Buckinghamshire
Client
Private
Status
Completed 2013-2019
Design Team
David Kohn, Liz Betterton, Matthew Volsen, Morgan Lewis, Lïssa Wickström, Adam Perkins, Ben Higham, Emmeline Quigley, Catharine Yarwood, Tahera Rouf, Alex Gore, Carme de Cara Nadal, Bushra Mohamed, Jennifer Dyne
Collaborators
Todd Longstaffe-Gowan Landscape design, HRW Structural engineers, SGA Consulting Services engineers, Jackson Coles Quantity surveyor, Rosenau Planning Services Planning consultant, Harvey Van Sickle Heritage consultant
Photography
Will Pryce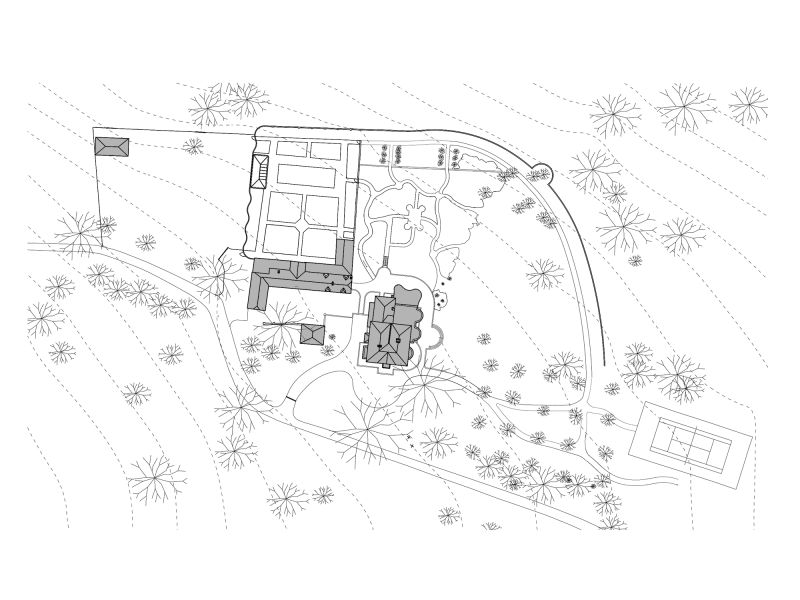 Top