Limhamn Silos
Malmö's past and future united in an ensemble of characterful buildings
The final proposal is both bold and unique in its distinct form and identity and has great qualities in both concept and architecture… The team's ambition to keep a low carbon footprint is a strength of the proposal, Jury citation.
'The Tower and the Sphinx' is a shortlisted entry in a two stage open international competition for housing, commercial and community uses on the site of Limhamn's historic cement factory in Malmö, Sweden. A primary design move was to incorporate the retained silo in a distinctive new family of structures. Referencing the nearby limestone quarry, the ziggurat structure is formed of stacked stone blocks creating semi-public terraces with sea views.
Supporting a growing community was a key principle of the design with gestures across a range of scales for both the residents and the city. Covered halls for residents create microclimates whilst an internal street connects Limhamn centre to the newly created park and provides sheltered access to shops and amenities.
The design is robust and flexible, with the building's form allowing the change of floor plate width and number of floors during the implementation process without undermining the concept. An entirely timber structure with stone brick cladding is proposed to maximise speed of construction and ensure that the new development has the least possible impact on the environment.
Project
Urban strategy, industrial building preservation, housing and landscape design
Location
Malmö, Sweden
Client
Fastighets AB Trianon, Lernacken Fastigheter AB & Malmö Stad
Size
12,000sqm
Status
Shortlisted entry in two stage open international competition.
Design Team
David Kohn, Alessandro Milani, James Houston, George Mathers, Shreya Sarin.
Collaborators
Hermansson Hiller Lundberg, muf, Price & Myers, Mark El-khatib
Images
Renders by Secchi Smith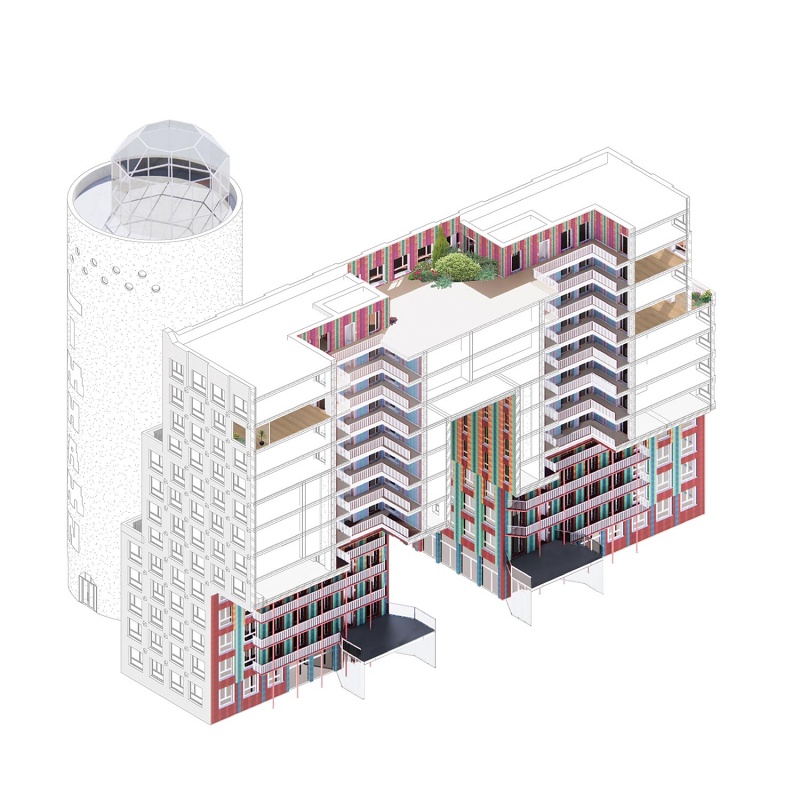 Top