Peabody
Commended entry in a competition to design the next generation of Peabody's affordable housing in London.
DKA was shortlisted amongst several hundred architecture practices to design schemes for the London housing charity Peabody. The final scheme was highly commended and the Peabody design director praised DKA for "not only an original design solution, but showing a genuine focus on the client, the neighbourhood and local residents at interview."
Our proposal included eight apartments over three floors. The distinctive stepped building form gives the scheme an appropriate scale to the street, the pub next door and adjacent Peabody housing.
Each home has excellent daylight, generous outdoor private space and shares a communal light-filled atrium decorated with light-reflecting mosaic tiles based on a new collaboration with artist Caragh Thuring.
Our approach was to be 'lean, clean & green' - think passive energy use first and energy efficient technologies second. The building would be constructed with a traditional facing brickwork external skin and prefabricated timber panel frame. A green roof and triple-gazed windows and doors ensure the scheme meets the client accommodation brief and conforms to the London Housing Design Guide standards, Code for Sustainable Homes and Lifetime Homes.
Project
Affordable Housing Scheme
Invited Competition
Location
London
Client
Peabody Trust
Status
Commended Competition Entry
Design Team
David Kohn, Saya Hakamata, Robin Turner, Tom McGlynn
Collaborators
Caragh Thuring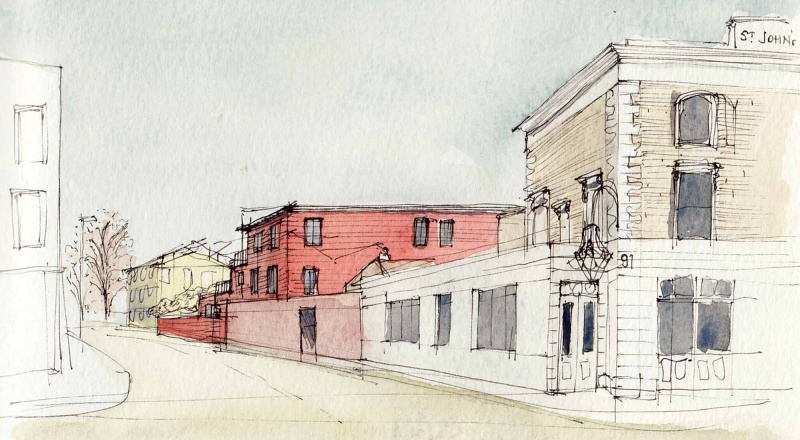 Top