Lützowufer Berlin
An apartment building in the Mitte district of Berlin that draws on its characterful surroundings
David Kohn Architects, in collaboration with Berlin-based architecture practice Nord Studio, has won a two-stage invited competition to design an apartment building in central Berlin. David Kohn Architects is now working with the client Euroboden to realise the project for 70 apartments within walking distance of Berlin's celebrated Tiergarten and Kulturforum.
The site is located adjacent to the Landwehr Canal, in the western end of the Mitte district. Our scheme seeks to make the most of the site, its narrow approach and long proportion, and the fact of it being sandwiched between buildings of significant architectural heritage.
Our design draws on the site's historic context, garden location and links between German and British architecture culture. Herman Muthesius' 1905 'Das Englische Haus' remains one of the finest accounts of the particularities of British homes, such as an interest in the diminutive architecture of bays, inglenooks and a concern for a building's silhouette. With specific reference to Burghley House, an example of what John Summerson described as 'Prodigy Houses,' the scheme includes an open fireplace in every apartment, bay windows that address the site entrance, and access to a shared picturesque rooftop garden of terracotta chimneys and lanterns.
"…the design achieves a convincing mix of rational space efficiency with an architectural attitude and specificity." – Competition jury
Project
Housing
Location
Berlin, Germany
Client
Euroboden
Status
Live
Design Team
David Kohn, Benjamin Boehringer, Adam Perkins, Tom Whittaker, Jessica Lyons, Jennifer Dyne, Kate Ivinson, Daniel Norman, Natalie Klak
Collaborators
Nord Studio
Todd Longstaffe-Gowan
Price and Myers
Skelly and Couch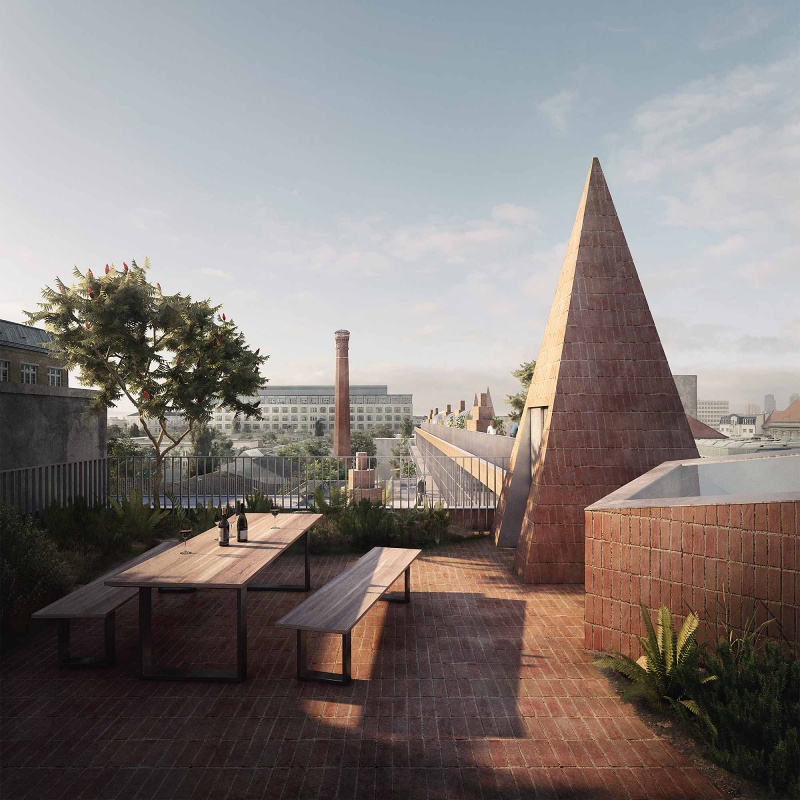 Top