Birmingham Smithfield Market
New market halls for Birmingham with performance spaces, workshops and offices, in collaboration with Eastside Projects
The new market halls for Birmingham city, designed by David Kohn Architects in collaboration with artist-run multiverse Eastside Projects, has been submitted for planning. Part of the £1.9 billion masterplan being delivered by Birmingham City Council in partnership with Lendlease, the market halls will form the centrepiece of a new mixed-use quarter.
The project was won through an open international design competition in 2019 and incorporates a covered outdoor marketplace, fish, meat and rag-dedicated halls, a food hall, a public rooftop garden designed by Todd Longstaffe-Gowan, and commercial office space.
The building has been thought of as a piece of city in its own right, incorporating thoroughfares and public spaces for gathering and performance throughout. The New Smithfield Market is at the centre of the city, a cultural centre hosting many communities, a portal into heritage and the future, a space of every-citizen where market traders and performers, locals and tourists, entrepreneurs and artists come together to sell, buy, create, feast, innovate, play, celebrate and watch the action unfold.
Our approach aims to amplify the area's existing cultural and social ecology, work as a tool to make a new place embedded in the heritages and cultures of the existing markets, enhance the everyday life of local and visiting publics through encounters with an artist engineered building that integrates contemporary art and cultural activity to make a globally recognised destination in the city.
The design was developed in collaboration with masterplanners Prior + Partners and in close consultation with the existing local market traders, and incorporates a number of major artworks by artists Gavin Wade, Celine Condorelli, Samara Scott, Harold Offeh, Gary Zhexi Zhang, Nicola Singh and Sarah Taylor Silverwood with signage by Mark El-khatib.
Type
Market halls, public space and offices
Client
Birmingham City Council and Lendlease
Value
£85M
Status
Submitted for planning January 2023
Team
Alessandro Milani, Ayse Canci, Grace Quah, George Mathers, Harry Thaxter, James Houston, Markus Nurkkala, Shreya Sarin.
Collaborators
Eastside Projects, Celine Condorelli, Mark El-khatib, Todd Longstaffe-Gowan, Charcoal Blue, Price and Myers, Max Fordham LLP, WSP, Urban Space Management, Plan A.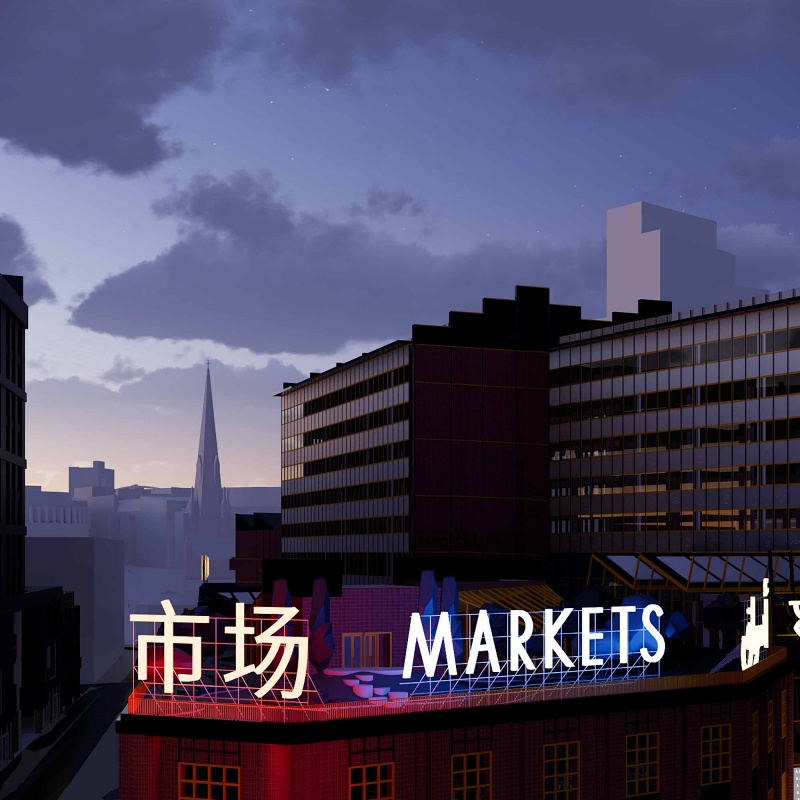 Top